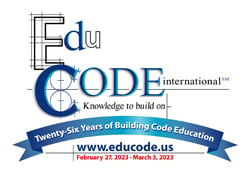 February 27 - March 3, 2023
Live at the Orleans Hotel and Virtual
Welcome to EduCODE 2023!
EduCode 2023 is once again proud to provide premier education, training, and networking for everyone who attends. Thanks to you, EduCode has become one of the best educational events anywhere in the country. This year we are providing classes that are both live and virtual to help accommodate every need of the code professional.
With over 100 classes (all ICC preferred provider approved, and many AIA certified) to choose from this year, EduCode offers training for building and fire inspectors, plan examiners, permit technicians, code enforcement officers, managers and supervisors, architects, engineers, building officials, students and all code professionals.
EduCode continues to take your suggestions, comments, and needs to ensure your experience is nothing short of exceptional. Attendees have numerous opportunities to brainstorm and share ideas, concepts, problems, issues and thoughts with nationally renowned instructors, industry professionals, ICC staff and fellow code professionals. Our many networking events are designed to bring participants, instructors, industry representatives and staff together, outside of the classroom, in a relaxed, informal, and fun setting to further the EduCode experience.
We look forward to meeting everyone both in person and in the virtual environment! Should you have any questions or concerns, do not hesitate to ask any EduCode volunteer as we are here to help make your experience the best it can be. Once again, welcome to EduCode 2023.
Sincerely,
Alan Ellis
EduCode Director
---